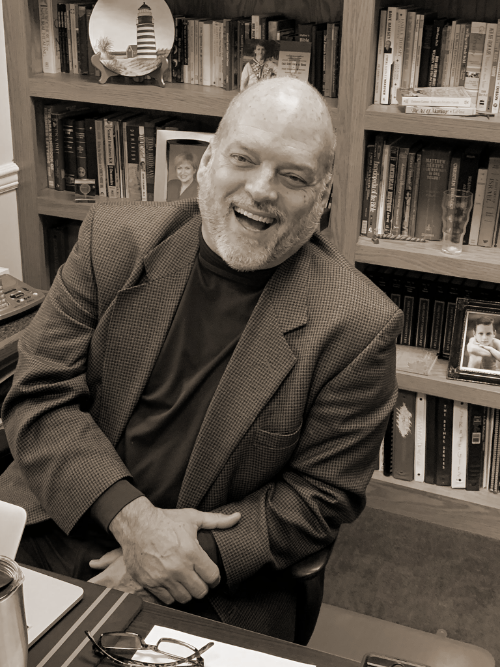 Pastor Johnathan's passion for ministry was ignited during his sophomore year in college. "Growing up in church, and having received Christ at an early age, I knew very little about how to live for Christ," Pastor Jonathan says.  "I continued to struggle with my relationship with Jesus into young adulthood until Jesus opened my eyes one night during a Fellowship of Christian Athletes meeting in a football dorm at Middle Tennessee State University. God began to direct me toward solid biblical teaching and surrounded me with brothers and sisters in Christ who helped me grow in my relationship with Jesus."    He began going to high school FCA meetings to sing and share his personal testimony. It was during this time of publicly professing his faith that he began to sense the call of God to the ministry.  This experience helped him come to understand his calling was to be a pastor.
Upon answering the call to the ministry he transferred to Bethel College beginning a journey toward ordination, finally graduating in1985 with a Batchelor of Arts in Religion and a Minor in music.  He returned to MTSU where he married the love of his life, Jeanni Stalcup Watson.  After his wife finished her degree the pair moved to Memphis where he entered Memphis Theological Seminary and graduated in May of 1989 with a Masters of Divinity.  He then received a call to pastor a Cumberland Presbyterian Church and was ordained a Minister of the Gospel in January 1990.   Pastor Jonathan and wife Jeanni have three children, Micah, Hannah, and Leah who are all married themselves, with Hannah expecting Jonathan and Jeanni's first granddaughter in April 2019.
Pastor Jonathan, has always had a desire to help others develop a deeper walk with Jesus.   "As a pastor I want to help people receive Jesus, but I also have a burning desire to help Christians grow up in Christ," he says.  "I knew personally how dry life could become for a Christian who attended church but struggled to understand how to walk with Jesus daily."   He passionately wants everyone, both young and old, new believers, and life long members to know what the love of Jesus has accomplished in them and for them.   "My desire is for everyone to know who God has made them to be in Jesus.
If this strikes a chord in your heart we ask you to join Pastor Jonathan in this mission here at Rockvale Cumberland Presbyterian Church to share the love and knowledge of Jesus with others.
Amy Alred
Amy has been a member of Rockvale Cumberland Presbyterian Church for more than 40 years, having raised both her children, April and Craig, in the church and now her grandchildren Mary Beth and Bo.   Amy studied music and is a talented pianist.   She is also skilled at arranging and composing.
Andy Winford
Andy has been a member of Rockvale Cumberland Presbyterian Church for almost 20 years. He enjoys leading worship and appreciates the beauty of traditional hymns and the power of modern contemporary Christian music. Believing that worship music should never define a church but used as a tool to bring worshipers closer to God, you will often find songs of worship that are familiar hymns from our past as much as contemporary hymns of our present.
Leadership in our church is composed of church members elected to eldership positions to make decisions on behalf of the congregation.   Our church has been blessed for many years with the wisdom of these men and women guided by God's will for our church and the community of believers we support.
April Bryan
Elder - Mother's Day Out Director
Lynn Smith
Elder and Bible Studies Director